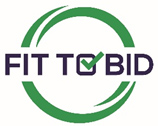 Fit To Bid®
A fully funded support package to enable local businesses get Fit To Bid®.
This innovative supply-chain programme involves an online Bid Capability Assessment of each company, followed by skills workshops and expert 1:1 advice to enable small businesses to:
Win more contracts
Master the Art & Science of bid writing
Connect with key buyers and Tier-1 & Tier-2 Suppliers at Heathrow, Gatwick, Local Authorities, HS2, TFL, Transit Hubs, Infrastructure Projects
Access live tenders and submit winning bids
Fit To Bid® Specialist Skills Workshops/Webinars:
Bid Skills Training (Foundation and Intermediate)
Marketing to Tier-1 Suppliers (including B2B Lead Generation)
Business Model Design
Project Management
Sales Enablement
Presenting to Win
Impact Assessment Survey
The London Borough of Ealing engaged Branduin to deliver a pilot Fit To Bid® programme aimed at enhancing the ability of local businesses to bid for and win contracts with Heathrow Airport, Ealing Council and other Tier-1 Suppliers.
56 businesses applied by completing an online Bid Capability Assessment Questionnaire via a dedicated website www.fittobid.co.uk, of which 45 eligible businesses joined the programme.
The programme was successfully reshaped by moving from face-to-face delivery to online webinars, and by incorporating new webinars to help local businesses recover from the effects of the pandemic.
All respondents were either Very Satisfied or Satisfied with the advice given at the Workshops/Webinars and 1:1 advice sessions. There was no expression of dissatisfaction. 78% of respondents felt that (the enforced) switch from physical to online webinars (caused by the pandemic) had been Very Successful or Successful.
Full survey report available on request, please email us on info@branduin.co.uk.
Testimonials
"The training helped improve my business skills, and this was particularly useful as we navigated the unprecedented challenges brought about by Covid-19. Some of the old plans, processes and actions no longer work or are as effective. New thinking required!"
Ruth-Anne Lynch, The Pallets Yard Ltd
"We have employed someone new for an existing position and have increased their job description to include bid writing."
Phil Tottman, Book of Beasties Ltd
"Good business advice – Adaptability from the Business Model Canvas."
Chris Scranny, Nu Electrical Ltd
"Thank you – a lot of things a smaller company may not have considered needing to do in the past – this has provided a great structure."
Raymond Patmore, Helix Design Ltd
For more information please call us on 020 3488 7150.
Fit To Bid® is a Registered Trademark with UK IPO. © 2020 Branduin Business Support Ltd.